Thermo/Probes Inc. Thermometers
Thermo/Probes Inc. provides a wide variety of thermometers including both standard length the option of up to 80". They also include a 5 year warranty on 3", 4" and 5" Dial Bimetal Thermometers against defective materials. 
Thermo/Probes Thermometer Dials:
A = 15/32″ Dia. Dial Face
B = 3″ Dia. Dial Face
C = 4″ Dia. Dial Face
D = 1-11/16″ Dia. Dial Face
E = 5″ Dia Dial Face
Thermometer Stem Materials and Lengths:
For all thermometer models, the stem is made of Type 304 Stainless Steel (316 SS is available upon request). Standard thermometer stem lengths are: 2.5″, 4″, 6″, 9″, 12″, 15″, 18″, 24″, 30″, 36″. Additionally, custom lengths are available upon request, up to 80″. For the ranges of 0/100°F, 25/125°F and 0/50°C, a 4″ stem is the shortest length. The standard stem diameter is .250″ on all models. 5/16″ and 3/8″ diameter stems are available and recommended for extra strength on hand-held applications for stem lengths 36″ and over. 
Thermometer Operating Conditions:
The temperature of the head should not be alowed to exceed 200°F (150°F if silicon filled). Stems should not be exposed to continuous temperature exceeding 50% over-range, or 800°F.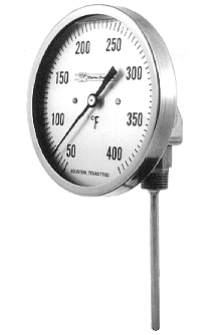 To specify the thermometer dimensions and materials needed, contact us today and request a quote. TALON is a manufacturer's representative of Thermo/Probes, Inc. nationwide.