Specialties
Intempco MIST(Microprocessor Integrated Sensor Transmitter) Series is a temperature transmitter with an integrated electronic circuit and microprocessor. This sensor can be re-calibrated and re-scaled over its entire range of operation. MIST combines the stability and accuracy of an RTD element with the benefits of an integral 4-20mA signal conditioning device.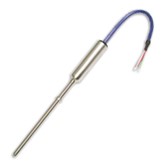 PMC's TS100 Series is a precision temperature transmitter It incorporates a PT100 measuring element and offers either the four wire un-amplified output or conventional configurations of either 4-20mA or 0-5/10 VDC.
Temperature measuring range: -65 to 300°F
Accuracy ± 2°F typical, 32 to 160°F
Suitable for pressures up to 12,500psi
GP:50 Model 340T/AI/AF/AN Hazardous Location Temperature Transmitter Essential where reliable and accurate process temperatures are required. Large temperature range and probe lengths.
Maximum process temperature -65 °F to +300 °F (-54 °C to +149 °C)
Probe lengths from ¾" to 7" (19 mm to 178 mm)
Accuracy ±1.0 % °F
Probe pressure rated up to 10,000 PSI
ATEX & IEC Approvals
CE Compliance